31 Dec

The Gun Club & Various Events

There have been many social events at Wedge Island over the years. The gun club has been host to a variety of these including New Years Eve celebrations, birthdays, weddings, engagements, old mole's, clay target shooting, Australia Day Cricket matches, 100's club, Easter Balls, just to name a few.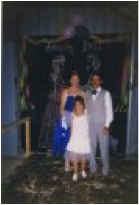 My first New Years Eve was in 1984. I was 3 months old. My mum dressed up as a Nun and as you can imagine the sight of a baby breast feeding from a nun would have been quite comical! The New Year's Eve parties were always themed, from nursery characters, cocktails, wedge, comic book and so many more. Every year everyone put in great effort to take out best dresses prizes. I celebrated the millennium at Wedge and many more! I am 27 this year and I think I have missed maybe 5 Wedge New Years.
The Easter Ball started off in my Dads workshop. He would put the huge wooden dance floor in and polish it up. Saw dust and cornflakes on the night to make pristine dancing conditions. These were ballroom Easter Balls. The men dressed in suits, the women in gowns. One year it was 1920's themed.
The Easter Ball then re-invented at the gun club by WIPA.
In earlier years the Gun Club, was as it sounds a gun club. There was clay target shooting. This stopped after the gun shelter was rammed by some fools and was no longer safe.
The Australia Day cricket matches were always a great day of the year at Wedge. For many years my mum and Cindy were there at the scoring table. My Wylie was the umpire. Numerous streaker's every year.  One year there was a wet t-shirt competition and best men's bits….. One year it poured with rain and the gun club was inches under water. They show went on and that year there were hot dogs and buns still being produced in the mud! Another year the Kevin Bloody Wilson rocked up. Most years it was just stinking hot. Some probably wonder why we sat out there in the stinking heat while the beautiful beach was only minutes away. Wedge spirit I guess. One thing was for sure though, if you team went out to bat first, you won.
The golf course was built in the late 90's. It has provided much entertainment to many people. We had Night golf a few times, it was an interesting experience.
The gun club is one of the meeting places of Wedge Island, as is the point, dunes or surf beach.