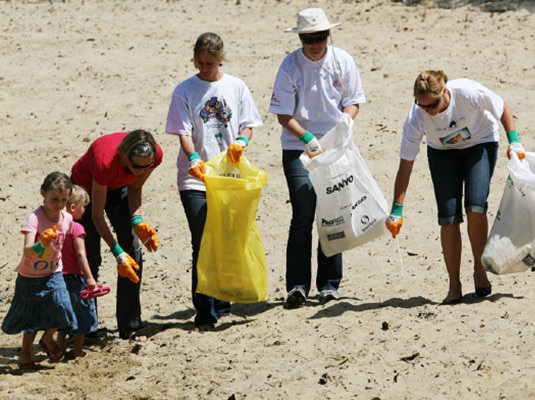 01 Jan

Clean Up Australia Day 2013

Another fantastic rollup of volunteers for 2013 Clean up Australia day at Wedge. With four main zones defined for the clean-up activities, we had a good spread of people and equipment through-out the settlement.
Volunteers
With about 55 volunteers registered, plus several on the coordinating group and late-comers, we had people working through the settlement collecting rubbish. Again, it was encouraging to have a range of age groups amongst the volunteers, and the family groups participating was a great sight around the tracks and the beach.
Aim
Our main objectives for this year's clean-up;
1. Clean-up efforts on the tracks and beach
2. Tidy waste transfer site and surrounding scrub areas targeting wind-blown rubbish.
3. Address the general rubbish and litter in and surrounding camping areas.
Recycling
Unfortunately, recycling has not been reinstated as yet, but hopefully will return in the foreseeable future. Therefore, all rubbish collected was deposited into the skip bins, provided as part of our lease fees and levies, for household rubbish and will go to land fill by the current contractor.
Observations
Feedback from the team leaders in each of the four zones identified in the town site, beaches, dunes and camping areas, where remarkably tidy this year and that there was a noticeable decrease in litter.
It was determined that the following factors contributed to this:
Periodical rubbish collection done by the Shaw family, locals and DEC the throughout the year.
A massive clean-up at the northern dunes after the New Year's Eve Illegal Rave Party.
Perhaps more family orientated, socially & culturally minded responsible campers that have been frequenting the area.
Since the inception of the Wedge Waste Warrior Recycling programme, the community have become more environmentally cognizant and accountable.
The majority of the junk collected was in the area surrounding the Waste Transfer Site and was wind-blown litter from the skip bins, which results from the overflow from the bins that has not been picked up by the waste removal contractor when swapping the bins over. This will be addressed with DEC to hopefully rectify this issue.
As previously determined by the WIPA committee, the majority of the rubbish collected was not from WIPA people/shacks, but due to day visitors and campers to the settlement and around non WIPA shacks.
Volume/weight of rubbish collected (estimated):
Volume    Weight
Waste (Mostly recyclable)    22 m3      1500 kg
Bulky Waste                           6 m3       500 kg
"
Acknowledgments
Our sincere gratitude to our volunteers on the day in assisting with another valuable and successful community based project.
A sausage sizzle at the Community Centre allowed us to thank the volunteers.
Congratulations and a big thankyou to the shack owners, the Shaw family and DEC who regularly pick up rubbish throughout the year.
Wedge Site Coordinator – Clean Up Australia Day 2013